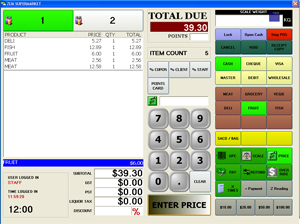 Zua Supermarket
Created for Supermarkets, Butcher Shops, Grocery Shops, Kiosks, etc....
Easily configure your products
Configure taxes in seconds
Fast and easy user interface
Keep track of your sales by user, by station, by date and time
Interface with scanners
Interface with POS Scales
Supports client's points cards
Client screen with custom advertisement
Multiple user interface
Graphical sales reports and comparison
Login from anywhere in the world
and so much more.
CONTACT US TODAY FOR A FREE DEMONSTRATION!
416.532.9329